What's in an icon? As part of Thailand NOW's mission to share authentic insights into all things Thai, we're spotlighting iconic individuals who have not only excelled in their respective areas, but influenced the complex tapestry of Thailand as it exists today and, in doing so, inspire us to be a part of the fabric of Thai society.
In this Icon NOW interview, Lee Ayu Chuepa talks about the humble motivations of award-winning Akha Ama coffee, pursuing formal education as a member of the Akha tribe, and how Akha Ama continues to empower local ethnic communities in Thailand.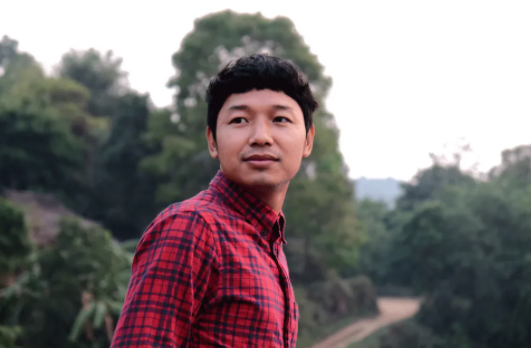 Lee Ayu Chuepa is the founder of Akha Ama, a community-based social enterprise committed to sustainable coffee. Source: Akha Ama
When speaking of coffee, countries like Brazil and Italy come to mind for many. Only in the past decade, as café culture began booming, has Thailand and pioneers like Akha Ama Coffee appeared on the world stage.
Appearing in the likes of BBC Travel and the Wall Street Journal, the roots of Akha Ama's award-winning beans and brew can be traced back to a remote village in northern Thailand, where its founder Lee Ayu Chuepa, 36, was born and raised.
"I chose coffee not because I loved to drink it, but because of the value it brings to the community," Lee says.
It wasn't until his teen years when Lee had a taste of one of the most beloved caffeinated drinks in the world—in the form of a can of sugary, milky beverage from a convenience store.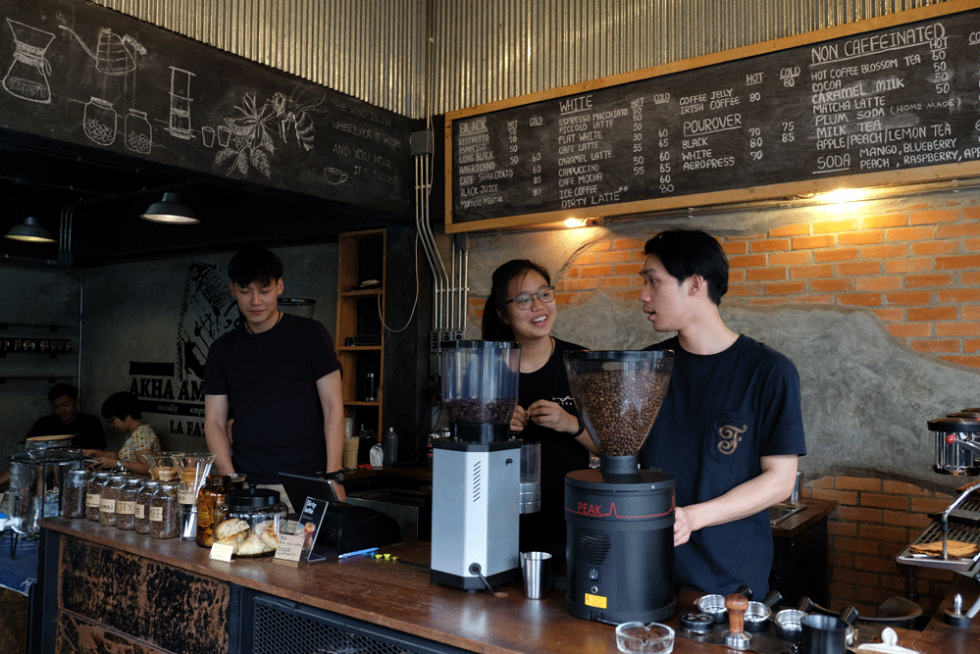 Thailand has come a long way from instant coffee. Here, three baristas are brewing artisanal coffee at Akha Ama La Fattoria. Source: Akha Ama
Though he had grown up seeing coffee trees around, he had only picked and tasted its sweet cherries. Coffee didn't stand out to him any more than the other plants he had learned to grow on the farm and forage in the forest. Whether it was apricots, plums, peaches, persimmons, or various vegetables and rice, the Maejantai village that Lee calls home had it all—made possible by the ingenious, traditional agricultural practices of the ethnic Akha people who live there.
Living off the land with only their survival skills, the Akha are highly self-reliant. However, the village's self-sufficiency was not only customary but required, due to their statelessness.
"That day, I felt like I could truly be free."
Having migrated from the southwest of China, Lee's parents had lived most of their lives in Thailand without full citizenship. For them and many other local ethnic communities, travel outside the village was difficult and access to essential services like healthcare was also extremely limited.
"It took 15 years to get my ID card," Lee says. "That day, I felt like I could truly be free."
Though formal education was often unaffordable and inaccessible for many Akha families, Lee ventured outside his village to learn more. He found his way to attend a temple school where it was free, and there, through textbooks, he saw illustrations of things he'd never seen before at the village.
"Cars, airplanes, and trains… People talked about the giant buildings in Bangkok, overseas in Europe, and Africa," Lee recalls. "That first day, I was shocked."
From there, his curiosity pushed him further to pursue higher education. Despite pushback from his community, he went on to search for scholarships. And despite all doubts and discrimination, he proved his ability and eventually enrolled in a university in Chiang Mai, majoring in English.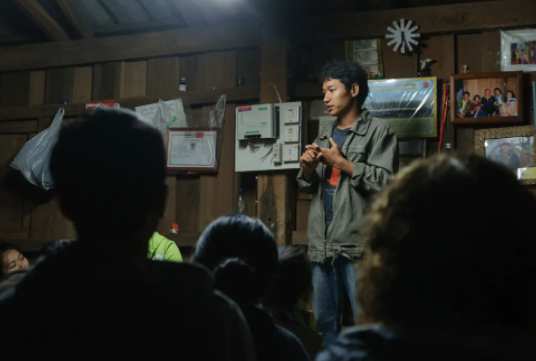 Lee Ayu Chuepa working with Child's Dream Foundation to improve rural education. Source: Child's Dream Foundation
During these years, he began pursuing another dream of his: charity work. In his last year of university, he began interning at Child's Dream Foundation, a non-profit devoted to improving health and education in the sub-Mekong region.
"When I went to the refugee camps at the border, I always saw my parents' faces," Lee says. "The whole picture and imaginations of the [stories] they had told of came back to me."
Going back to his village, he realized the opportunities he's had and felt a guilt for his privilege. Recruited for a full-time position at the Foundation, Lee made it his project to return home and find ways to improve the livelihood of his community. This was the place and people that raised Lee, and this was a chance for him to bring all that he's learned from the outside world back home to share with his community.
"…why not go overseas to earn lots of money…?"
But when he went to speak with community leaders and faculty at his former school to better understand their needs, his goodwill was met with frowns and rejection. Being the first in his village to graduate from university, Lee was like "Superman" to his neighbors. But seeing him back at their tiny village made them feel like they had failed him.
"[They thought] why not go overseas to earn lots of money and create a better living?"
Despite being turned away from everyone he asked, Lee persisted every day. Little by little over the weeks, the community members began opening up to him about the challenges they faced. Besides problems in agriculture, marketing, logistics, processing, and infrastructure, they also unloaded about the struggles they had with a range of other social problems.
Many children weren't motivated to go to school because they only saw a future working at a gas station or construction site. And for the children who were, their parents often couldn't afford to support or further their education. And for those who attended school, classrooms were often dangerous places that shook and rumbled during storms.
Lee first began with leading a Child's Dream project to build a boarding school for children who lived far from school. On the opening day, thousands of villagers attended, rejoicing and giving thanks to Lee for the new safe space he'd built for their children.
As he gained a better understanding of his village's challenges, his dream grew bigger, his vision clearer: how can they improve education and economy without harming nature?
Lee Ayu Chuepa leading a tour of an Akha village's coffee plantation. Source: Akha Ama
"The community has tea, but they can't [produce] good tea. They have coffee, but they don't know where to sell it," Lee explains.
Upon further research, he found that coffee was widely grown by smallholder farmers, particularly local ethnic communities worldwide. This was the second-most traded commodity just after petroleum—why aren't they selling theirs, and why are most sellers still in poverty?
Due to their production scale, most smallholder farmers were unable to control the quality and price of their products, and so profits mainly went to large companies and middlemen. But after seeing the late King Rama IX's royal project, he was inspired to develop a business model that could give back to his community. At a time when the majority of coffee consumption in Thailand still consisted largely of instant coffee, Lee jumped at the opportunity and entered the world of coffee.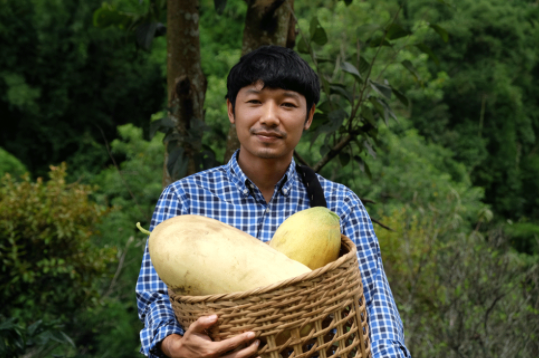 With some trepidation from his community, Lee Ayu Chuepa was given 2,000 kilograms of coffee
beans to launch what would become an award-winning social enterprise. Source: Akha Ama
"My parents said I was crazy," he says. "They didn't even want to give me their coffee beans to experiment with."
After some negotiation, he was given 2,000 kilograms to start, and from that arose Akha Ama. And just as Lee began his journey in 2010, the Specialty Coffee Association of Europe was selecting coffee from around the world for the annual World Cup Tasters Championship event.
"I thought, why not?" Lee said.
He sent his village's coffee to faraway London. Two months later, he received an e-mail saying congratulations. Coffee from Thailand had made it to the world stage.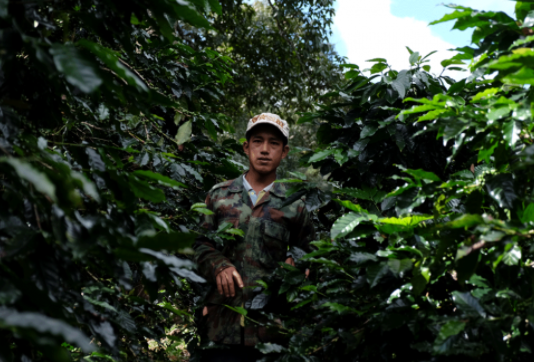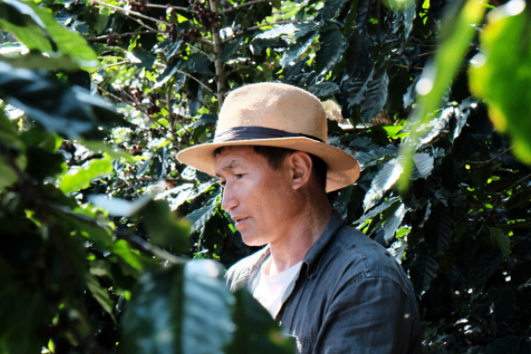 Akha villagers tending their coffee plantations. Source: Akha Ama
"The philosophy for Akha Ama isn't from myself alone," he says. "It's from the community."
"Ama" in the Akha language means "mother," a tribute to his own mother as well as the people and place that raised him. As his company grew internationally, it brought him back closer to his roots. From grower to barista, he brought his family and friends into various roles while encouraging farmers to invest—not with money, but by pitching in coffee beans to their social enterprise.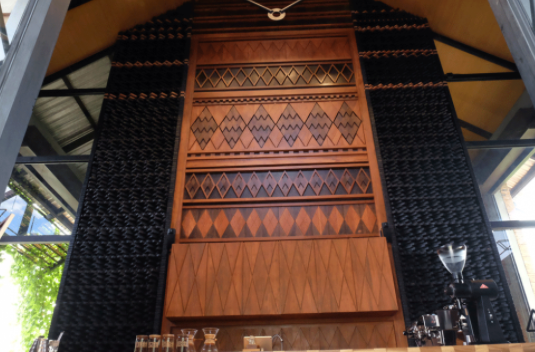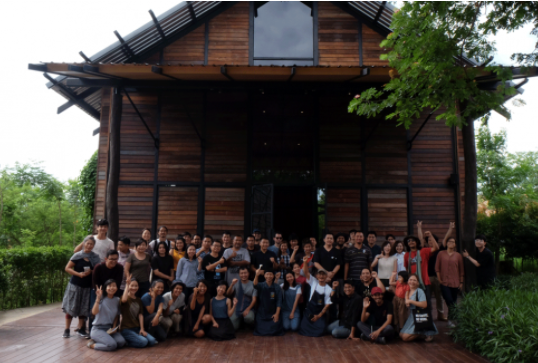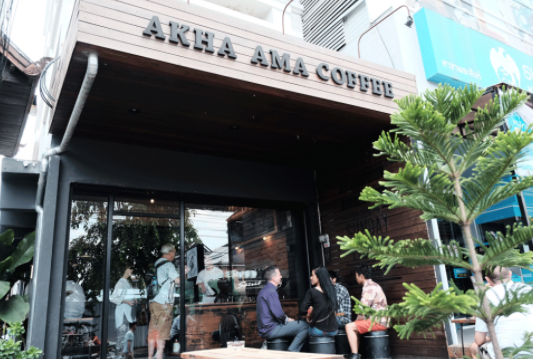 Akha Ama Coffee has grown into several branches: Akha Ama Coffee (top),
Akha Ama Living Factory (middle), and Akha Ama La Fattoria (bottom). Source: Akha Ama
"It would be very dry to [describe] the impact created in terms of money, but to see the skills that have happened, and the young people that have returned after the education…" Lee trails off, smiling at the change Akha Ama has inspired in his community.
From a lone entrepreneur to dozens of families, his business now spans several villages that work with Lee to achieve higher quality and sustainability in their products.
Inspired by him, many young people are returning to the village to contribute to the change he set in motion. Like Lee, many are venturing out—and like him, they are returning home with newfound knowledge to strengthen their roots and branch out further.